Captain Seamus Muldoon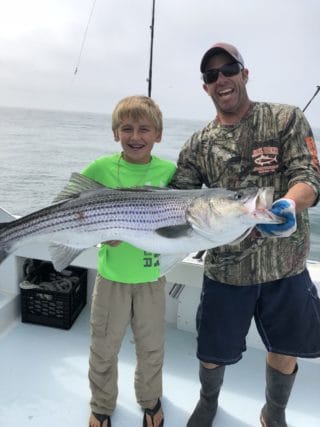 Growing up on 100 Acre Cove and its tributaries in Rhode Island, Captain Seamus Muldoon was drawn to the water at an early age. He bought his first boat, a 20' plywood skiff, at age 15. This enabled Seamus to start his own business shell fishing, working before and after school and on weekends. Seamus spent quality time on the water of Narragansett Bay, pursuing his passion of the saltwater – fishing stripers and blues, catching blue crabs, and digging clams. During summer months as a high-schooler, Captain Seamus would often take family and friends fishing on his boat.
After graduating high school, Captain Muldoon moved to South Florida and learned how to fish the Gulf Stream. He focused on catching mahi, cobia, sailfish, and sharks and quickly learned how to be a Florida Sportsman. After several years, Seamus returned to the waters of Rhode Island, where he took a position as a mate on a charter fishing boat in Point Judith.
During this same time in southern Rhody, Captain Seamus tagged striped bass and bluefin tuna for research focused on the behavioral patterns of bluefin tuna. In 1999, he won an AFTCO Award for tagging more than 1,100 bluefin tuna in one year. Some of the fish that he tagged were recaptured in Europe and Canada in subsequent years.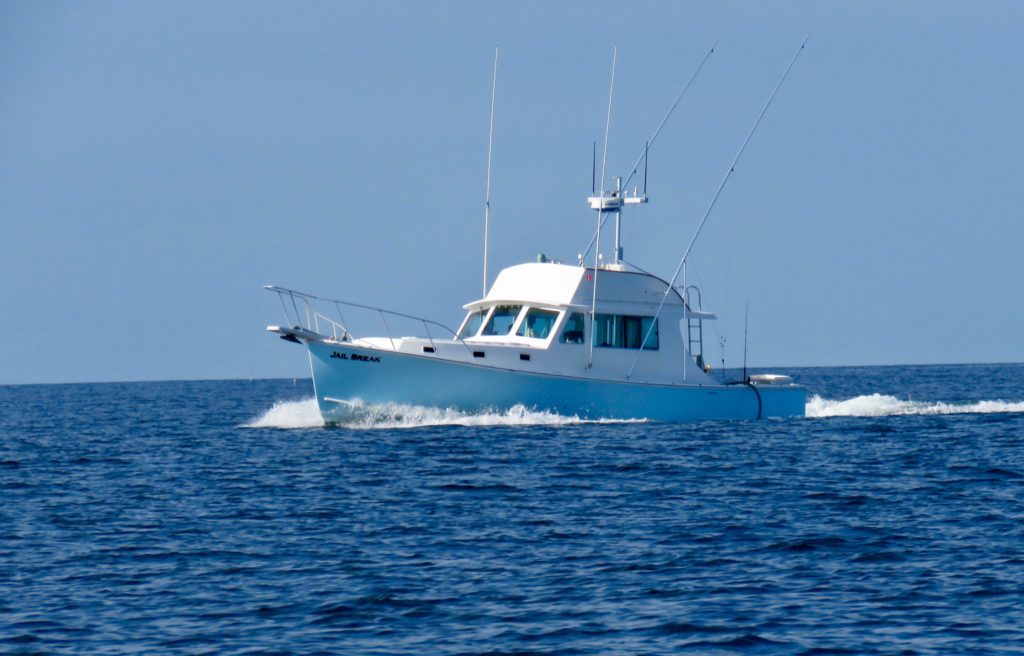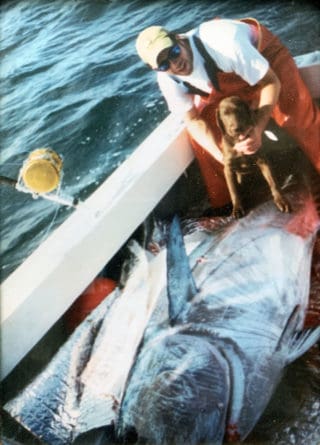 Captain Seamus moved to Harwich, MA in 2000 and took a job as a Captain fishing for giant bluefin. He spent the next 9 years chasing tunas from Maine to North Carolina with his best friend 'Duffy', a chocolate Labrador. Seamus and Duffy fished and hunted at every chance they could get; they were an inseparable team.
In 2008, Captain Seamus started Jail Break Fishing Charters, which was named after Duffy, as Duffy was known to go on 'jail break' adventures in the woods and waters of Harwich. At this point, Captain Seamus bought his third boat. This 33' Fortier enabled him to start one of the most successful charter fishing businesses on Cape Cod.
Captain Muldoon upgraded his boat in 2015 to a 42' Duffy sportfishing boat, and Jail Break Fishing Charters continues to be a powerhouse in the Cape Cod waters. While Duffy is no longer Jail Break's first mate, Fiona can sometimes be seen aboard.